Career on the line - Niko Mäkinen challenges everyone to help
2016-07-25
When one of Finland's most promising Superbike class riders, 23-year-old Niko Mäkinen decided to jump off his motorcycle when the brakes failed at almost 300 km/h in a Superbike European Championship race in Barcelona, he became an instantly famous. The youngster of Team Leopard Yamaha Stratos, who was able to keep his head cool and act in a very smart way in a very threatening situation, amazed people all over the world.

However, there is also another side to this dramatic event. Niko's Yamaha R1 Superbike continued, now without pilot, at very high speed colliding with the guardrail in the end of the straight and destroying itself. Even if Niko did not cause the accident, the pilot and his backers are responsible for the repair costs which raise to over € 20,000 due to the nearly total destruction of his racing motorcycle.

Niko recovered quickly from the shoulder injury suffered in the accident and he won the following race in Albacete, but the economic consequences of the accident in Barcelona have put his career in the Championship series in jeopardy. Niko leads the Superbike Privateers' class after six of the 11 races in the championship. Winning the Championship would be a very important step in the career of this young Finn and could open new doors for the future.

"Competing at international level has been a dream for me since I was a little boy. This season has been really great and successful and it would be a great disappointment and useless sacrifice of resources if continuation in the series should become impossible." Niko says.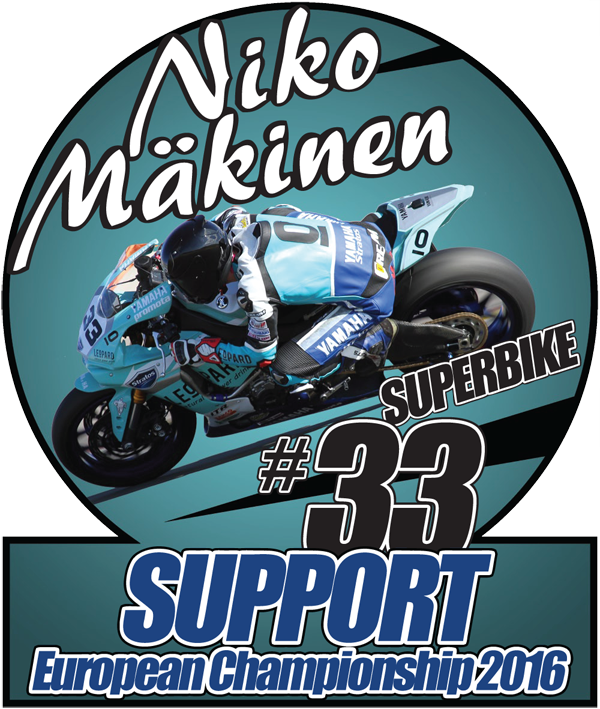 In an effort to diminish the doubts on Niko's career caused by the consequences of the Barcelona crash, his backers launch a support campaign by challenging all racing fans to buy "Niko Racing # 33 SUPPORT" stickers. Each sticker contributes by 30 € towards Niko's dream to become the next privateer champion in the FIM CEV Repsol Superbike European Championship.

Despite the difficult situation, the young man considers the future with confidence and is grateful for the support received so far.

"It has been truly amazing to see how people have encouraged me so enthusiastically and I'm really grateful for all what my backers have done so far, enabling access to carry out my dream. Let us hope that this story does not end here either. "

The next race of the FIM CEV Repsol European Superbike Championship series in on the 28th of August in Algarve Circuit in Portugal.

Niko Racing # 33 SUPPORT sticker can be ordered here: http://www.nikoracing.fi/?Niko_Racing_33_SUPPORT
Submenu